楓林詠嘆調 " Maple Grove Ari "
1
昨夜寒霜瘋狂的愛
使楓葉倏地羞成赤紅
The mad passionate love with last night's frost
made the maple leaves suddenly turn crimson in shame.
2
嫩綠的臉蛋泛上脂彩
楓樹一夜由女孩成熟為少婦
Light green cheeks now flooded with rouge,
overnight the maple girls matured into young women.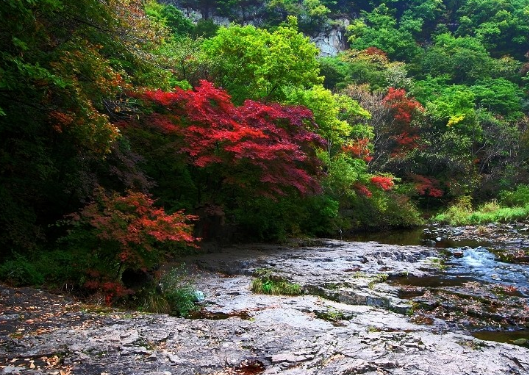 3
溫差是魔術棒
黎明前煮熟遍山葉子
Temperature change is a magic wand
cooking up a mountainside of leaves before dawn.
4
是一群鮮活的蝦蟹掉進沸水嗎?
墨綠突變為團團殷紅。
A mass of fresh lobsters and crabs dropped into boiling water?
Dark green suddenly turned into deep red.
5
楓樹昨夜豪飲西風醉倒
今晨依舊滿臉酡然
Last night the maple trees got drunk on the west wind.
This morning their faces are still flushed.
6
片片紅楓是盞盞燈籠掛在樹梢
把深秋的藍空燒個通紅
So many red maples, so many red lanterns hanging on branches,
burn the blue skies of autumn red through and through.
7
楓林失火了!
可眼前無煙無熱
只有秋色如畫
Fire in the maple grove!
But there's no smoke, no heat,
nothing but a picturesque autumn scene.
陳浩泉
by William Chan
王健 英譯
Translated by Jan W. Walls